SAWS Board, City Council approve new rates for 2023
San Antonio Water System is required by law to publish a new rate schedule for water service, water supply, irrigation, wastewater and recycled water. These new rates will be effective for consumption on or about Jan. 1, 2023.
If you would like more information or assistance on estimating your bill, contact SAWS at 210-704-SAWS. An online calculator for SAWS rates is also available. Additional information regarding this new rate structure, including the ordinance and supporting documentation, can be found at the City Clerk's office located at 100 Military Plaza, 1st Floor, San Antonio, Texas 78205.
View 2023 Bill Samples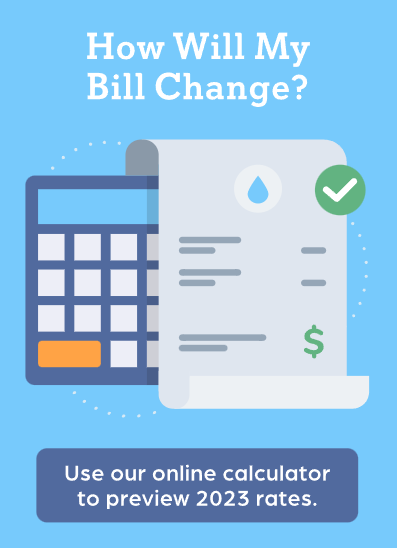 Rate Table Definitions
General Class: Includes Commercial, Industrial and Apartment Customers.
Irrigation Class: Customers that use water for landscaping, either through a separate meter or through a pro-rated amount of monthly water use. New business service accounts that are installing an in-ground landscape irrigation system are required to install a separate landscape irrigation meter.
Wholesale Class: Customers who have entered into contracts for wholesale water and/or sewer service with SAWS.
Recycled Water Class: Customers that use recycled water produced by SAWS for non-potable applications through a separate recycled water meter.
Uplift Assistance Program (UAP) Residential Water and Sewer Rates: Households inside the City Limits or outside the City Limits with income at or below 125 percent of the Federal Poverty Level (FPL) are eligible to apply to be subject to the UAP rates.
Uplift Assistance Program Fee Rates: Water and sewer volumetric fee rates assessed non-UAP Residential,
General, and Irrigation customers to support the Uplift Assistance Program.
Seasonal Rates: Recycled water rates applied to all billings beginning on or ab months on or about September 30 of each year.
Standard Rates: Recycled water rates applied to all billings beginning on or about October 1 and ending after seven complete billing months on or about April 30 of each year.
Base Consumption: 100% of average monthly consumption of prior year.
Inside City: Rates charged for customers living inside City of San Antonio City Limits.
Outside City: Rates charged for customers living outside City of San Antonio City Limits.
Winter Average Consumption: The fee for sewer service is based on the average monthly consumption of water during three complete consecutive billing periods beginning on or after November 15 of each year and ending on or after three full billing cycles in March.
Wastewater Customers of Other Cities: A different rate may apply to customers being billed by SAWS for wastewater for other municipal bodies.
The charts below show the 2023 rates for different meter sizes and amounts of water use. Please note the new rates are published in amounts per 1,000 gallons of use. This change will help SAWS transition to electronic water meters in the years ahead, which measure in gallons instead of cubic feet like the older mechanical meters.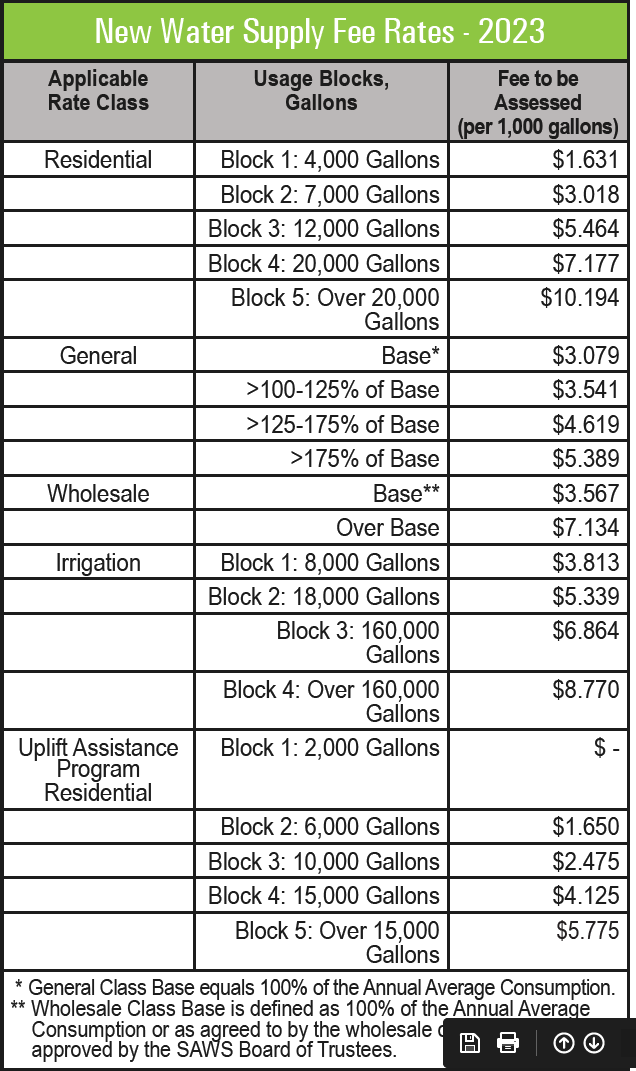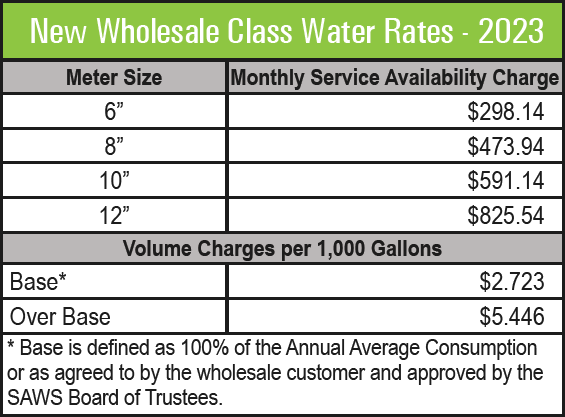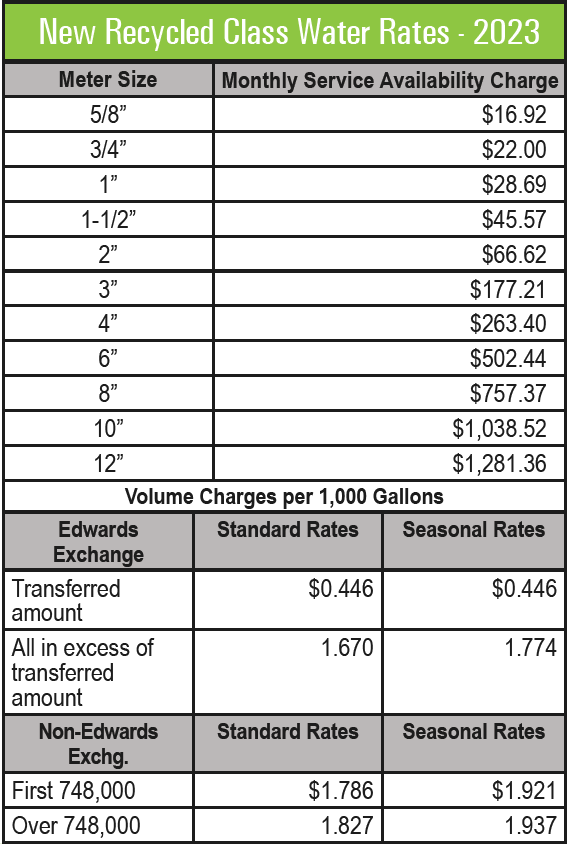 Authorized Maximum 2024, 2025, 2026 and 2027 Recycled Water Rate Adjustments
The San Antonio City Council has also authorized SAWS to make further adjustments to the Recycled Water rates effective Jan. 1, 2024, Jan. 1, 2025, Jan. 1, 2026 and Jan. 1, 2027, respectively. These adjustments may be made without further City Council approval. The adjustments in each year are not to exceed the maximum percentages for each year as shown below relative to the 2023 Recycled Water Rates.
2024: 10%
2025: 10%
2026: 10%
2027: 10%