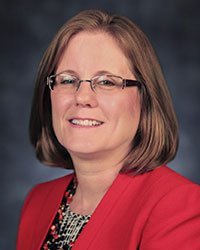 Mary Bailey
VP Customer Experience and Strategic Initiatives
Bailey joined SAWS in 2006, initially serving as controller before being promoted to vice president of accounting and business planning in 2015. She is a Certified Public Accountant with more than 30 years of accounting and finance experience in the public and private sectors.
Since 2013, Bailey has taken the lead in communicating the utility's case for multi-year rate adjustments to SAWS customers, City Council and business leaders. She also led the 2015 rate study and was tasked with consolidating rates with customers of the former Bexar Metropolitan Water District in 2017.
Bailey received a Best CFO Award from the San Antonio Business Journal in 2013. She is a graduate of Leadership San Antonio and serves as president of the local chapter of Financial Executives International and board treasurer of Avance San Antonio.
Customer Service
The Customer Service Group is responsible for providing the highest level of service to SAWS customers at all times, responding in the most expedient and professional manner possible. This group is also responsible for the accurate and timely billing of SAWS customers and the maintenance of customer accounts.
Billing – Reviews the billing process for accuracy of all SAWS bills printed daily; resolves customer service online billing issues.
Customer Care – Promptly handles all inbound telephone customer inquiries regarding billing, account information, service problems and payments.
Field Services – Responsible for service turn-on/turn-off requests; collection of delinquent accounts; fire hydrant meter readings; and setting, removing, repairing and testing water meters.
Meter Reading – Ensures all SAWS water meters are read on schedule, recorded and researched for accurate billing.
Revenue Collections – Determines and ensures correct billing format for customer accounts; handles inbound calls regarding collection of delinquent accounts.
Customer Centers – Four full service walk-in locations provide friendly, personal interaction with SAWS' residential and commercial customers.