Brackish Groundwater Desalination
SAWS' desalination project began pumping brackish (salty) water in 2016 from nearly 1,500 feet underground from wells in the Lower Wilcox Aquifer and treating it to produce up to 10 million gallons of drinking water each day. The plant is located at the SAWS H2Oaks Center in far south Bexar County. This facility is also home to two other water supplies all operated from the H2Oaks control room, Aquifer Storage and Recovery and Local Carrizo Aquifer.
The Desalination Process
Groundwater desalination uses a filtering process called reverse osmosis that removes 99.9 percent of the salts and minerals form the water. Once treated, the water tastes similar to Edwards Aquifer water and blends with SAWS' other water sources.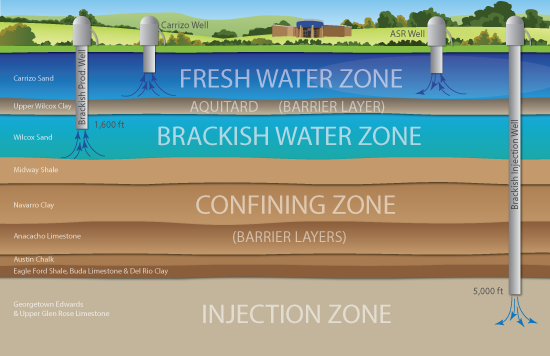 Every 10 gallons of brackish water is converted to nine gallons of drinking water. The salts and minerals that are removed are then injected deep into the ground into an area where existing salt and concentrations are much higher.
The H2Oaks facility includes 13 production wells and two injection wells, in addition to a water testing laboratory and treatment processing area. The plant was designed to allow for easy expansion in the future for an ultimate capacity of over 33,000 acre-feet per year. An onsite research facility will be used by universities to study ways to optimize the desalination process and water supply.
The plant can produce up to 11,200 acre-feet per year of finished water, enough to supply about 45,000 households. In 2022, 4,300 acre-feet was produced from the brackish groundwater desalination facility. Additional phases will be brought on line as needed to meet the water needs of our growing regional population.
Related
Terms
Firm yield – The volume of water which can be produced from a defined source during a repeat of the drought of record under existing regulatory, legal, contractual, hydrological or infrastructure constraints
1 acre-foot per year = 325,851 gallons