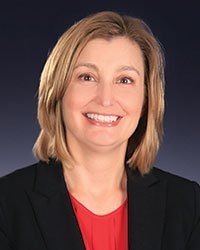 Andrea Beymer
Executive Vice President/Chief Operating Officer
Since joining SAWS as a Graduate Engineer in 1997, Beymer has worked in various roles within the Engineering group. In 2017, she was promoted to Vice President of Engineering and Construction. She is responsible for the execution of a capital improvement program averaging $500 million per year.
Andrea, a licensed professional engineer, oversees Engineering & Construction, Production & Treatment, and Distribution & Collection Operations as COO.
Beymer has a Bachelor of Science in Civil Engineering from Texas A&M University and a Master of Science in Civil Engineering from the University of Texas at San Antonio. She is a licensed professional engineer in the state of Texas.
Utility Operations
Beymer's team of more than 800 water and wastewater professionals provides the essential services of water production and distribution, wastewater collection and treatment, system maintenance, heating and cooling, fleet, technical services and energy management.
Distribution and Collection Operations – Operates, maintains and repairs the 9,000 miles of water distribution and wastewater collection systems ensuring our customers receive uninterrupted, quality potable water and associated wastewater services.
Production and Treatment – Provides the essential function of water and wastewater services to customers by 24-hour-a-day monitoring, operating and maintaining the production and treatment facilities.
Engineering and Construction – Develops and manages the SAWS Capital Improvements Program and performs engineering analyses of existing facilities and new infrastructure planning to meet the demands of the growing community.
Contact
To:
Andrea Beymer