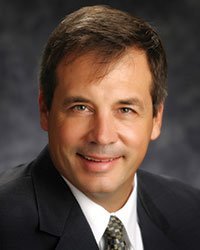 Jeff Haby
Senior VP Production & Treatment
Haby has been at SAWS since 1997 and oversees water production and treatment, wastewater treatment and recycled water, lift station operations and maintenance, electrical maintenance, and predictive maintenance. He has also overseen more than $1 billion in sewer upgrades and maintenance under the 10-year Environmental Protection Agency Consent Decree.
Haby has more than 25 years of combined experience in employee management, system operation, project management, utility engineering, hydraulic modeling and infrastructure planning.
A graduate of Texas A&M University with Bachelor's and Master's degrees in Civil Engineering, Haby is a registered Professional Engineer in Texas and Missouri. He holds an "A" Water Operator license in Texas and is an active member of the American Society of Civil Engineers, American Water Works Association and Water Environment Association of Texas.
Production & Treatment
The Production and Treatment Group provides the essential function of managing the year-round 24-hour-a-day operation of the water and wastewater system. The group is responsible for the production of potable water; treatment of wastewater for distribution in the recycle system or discharge; processing of wastewater biosolids for ultimate disposal; distribution of recycled water for reuse purposes; management of system-wide odor control program; wastewater lift station maintenance, instrumentation and controls maintenance for treatment, production, lift station and chilled water; electrical maintenance for treatment, lift stations, production, chilled water and all facilities. This group consists of the following departments:
Predictive Maintenance – Performs analysis to reduce critical infrastructure failures and ultimately improve systems for production, treatment, cooling and lift stations.
Production – Manages the production of potable and recycled water across SAWS service area. Operates SAWS potable water facilities, recycled water distribution, Agua Vista Facility and H2Oaks Center operation, including the Aquifer Storage and Recovery operations. Also manages the production mechanical maintenance unit and instrumentation and controls.
Centralized Electrical Maintenance – Manages maintenance of electrical systems for all SAWS production, treatment, lift station facilities, chilled water and all facilities.
Lift Station Maintenance – Manages the maintenance of all wastewater lift station facilities.
Treatment Maintenance Management – Responsible for maintenance of the wastewater treatment plants (water recycling centers), recycled water outfalls, and special construction and repair projects across the system.
Treatment Operations Management –Oversees all operations of the three water recycling centers, which includes biosolids processing to ensure proper recycling or disposal in compliance with state and federal regulations.  Also manages the waste hauler and odor control programs.  Additionally, operates recycled water outfalls and environmental flows into rivers.