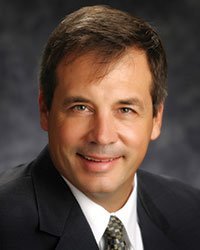 Jeff Haby
VP Production & Treatment
Haby has been at SAWS since 1997, first in Replacements and Improvements followed by a stint in Master Planning and now Production Treatment Operations.
He has more than 25 years of combined experience in employee management, system operation, project management, utility engineering, hydraulic modeling and infrastructure planning.
A graduate of Texas A&M University with bachelor's and master's degrees in civil engineering, Haby is a registered professional engineer in Texas and Missouri. He holds an "A" Water Operator license in Texas and is an active member of the American Society of Civil Engineers, American Water Works Association and Water Environment Association of Texas.
Production & Treatment
The Production and Treatment Group provides the essential function of delivering product to customers by operating, monitoring and maintaining the system. This includes developing, implementing and administering sewer system improvements, designed to reduce sanitary sewer overflows in the wastewater collection system.
The group is responsible for the daily operation and maintenance of the entire potable water production system, the Aquifer Storage and Recovery Facility, all Heating and Cooling facilities, and the Steven M. Clouse, Leon Creek and Medio Creek water recycling centers. The group also manages the Emergency Operations Center.
Cooling – Operate cooling systems that serve downtown San Antonio and Port San Antonio through a network of underground pipes.
Facilities Management – Provides building management and maintenance services; also space planning, office reconfigurations and oversight of all facility construction projects; oversees collection and delivery of SAWS mail and manages the corporate cafeteria.
Maintenance Planning – Provides overall data management and reporting pertaining to the operations and maintenance of the Wastewater Collection system, including sewer cleaning and inspection using televising equipment.
Production/Treatment/Lift Stations/Maintenance – Provides the essential function of water and wastewater services to customers by 24-hour-a-day monitoring, operating and maintaining the production and treatment facilities.
Sanitary Sewer Program Management – Provides comprehensive program oversight for activities and programs related to SSO reduction. This includes identification and implementation of remedial measures associated with capacity constraints and condition in the wastewater collection system, as well as various other activities such as the flow metering programs and the Fats, Oils and Grease program.
Security – Manages a proactive security program and associated activities for all SAWS employees and properties; monitors available threat-level information and develops strategies for ongoing security-related communications with employees, response organizations and employees.
Treatment Operations – Responsible for the operation and maintenance of the Steven M. Clouse, Leon Creek, Medio Creek and satellite water recycling centers, which serve more than one million residents of the San Antonio area. Each plant is a 24-hour-a-day operation for the mechanical and biological treatment and disinfection of wastewater, along with the processing of wastewater biosolids for ultimate disposal.