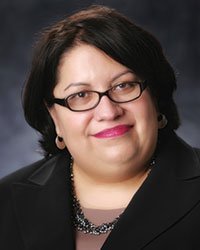 Sharon De La Garza
Senior VP Human Resources and Risk Management
Prior to joining SAWS in 2012, De La Garza served as assistant city manager and chief human resources officer with the City of San Antonio. While there, she led several major initiatives including extensive revisions to employee benefits and compensation plan designs, as well as a citywide consolidation of human resources staff.
A Harvard University graduate, De La Garza is a member of the Society for Human Resources Management, International Hispanic Network and World at Work Association. She also has attended the Harvard Business School Summer Program for Strategic Human Resources Management.
At SAWS, De La Garza oversees corporate staffing, compensation and benefits, corporate training, employee relations, risk management and organizational development for nearly 2,000 employees.
Human Resources
The Human Resources Department is responsible for all aspects of human resources and risk management administration for SAWS. The group primarily engages in attracting, developing and retaining a qualified workforce to help SAWS reach its organizational goals and mission through a focus on excellence and continuous improvement.
Compensation and Benefits – Develops, implements and manages effective and cost-efficient employee compensation and benefits programs.
HRIS – Manages all aspects of the Human Resources Information System (HRIS), including data integrity, system functionality and capability.
Employment and Staffing – Provides recruitment and staffing programs to attract qualified, diverse candidates for employment.
Employee Development – Develops, implements and administers employee development and training programs to maximize workplace productivity, and promote employee career and self-development.
Employee Relations – Promotes healthy workplace relationships between employees by providing professional human resources consulting for effective employee performance management and discipline.
Risk Management –Manages all facets of the comprehensive commercial insurance program as well as premises risk assessments. Claims staff processes workers compensation, liability, casualty and subrogation claims, while safety staff develops and coordinates safety programs and activities to ensure a safe work environment for all employees.
Contact
To:
Sharon De La Garza