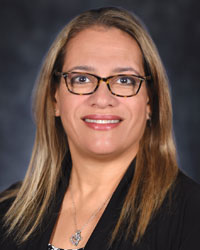 Hope Wells
Vice President Legislative & Regulatory Affairs
Hope Wells has led legislative and executive initiatives for SAWS in Austin for more than a decade.  Prior to that, she worked in the Texas House of Representatives as legislative aide and then Chief Committee Clerk and General Counsel for the Committee on Natural Resources. Overall, Wells has worked in the water sector and public policy arena for 25 years. In that time, she has developed meaningful relationships with state elected and appointed officials, state agencies and other industry colleagues, and has worked zealously to advocate for SAWS in the execution of our legislative and regulatory program.
Wells is also very active in the Texas Water Conservation Association (TWCA), an association of water professionals and organizations working to promote sound water policy for the state. She is past president of TWCA (one of the youngest members to hold this position) and formerly chaired the municipal panel, where water leaders can collaborate to help shape policies specifically affecting cities.  For the past nine years, Wells has also served as a chair of TWCA's Groundwater Committee, a group of more than 150 stakeholders in the Texas groundwater arena representing groundwater owners, users, regulators, scientists and environmental interests. Through the committee's consensus process, TWCA has sponsored more than a dozen legislative initiatives, including several key measures that have been proposed by SAWS.
Wells received her undergraduate degree and law degree from the University of Texas.