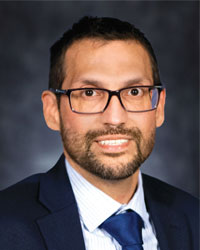 Robert Pina
VP Chief Information Officer
Pina joined SAWS in 2012 when SAWS absorbed the former Bexar Metropolitan Water District where he served as BexarMet's Director of System Support.  He is responsible for SAWS information and technology services, focusing on the customer digital experience along with organizational productivity and automation.
Pina has overseen the successful implementation of customer-facing initiatives such as the recent redesign of the SAWS website, the self-serve MyAccount customer portal, Salesforce, the microsite supporting Uplift payment assistance programs and SAWS' water outage map that customers can easily use to check if their neighborhood is affected. In addition, he spearheaded the SCADA Master Plan and Sanitary Sewer Overflow Reduction Program System Integration, including saws.org/sewer.
A life-long resident of San Antonio, Pina earned his Bachelor's in Computer Science and Master's in Computer Information Systems from St. Mary's University.
Information Systems
Information Systems delivers quality, secure, cost‐effective applications and information technology services, which promote innovation to sustain growth while enabling SAWS to better serve our valued customers. Information Systems teams include:
Enterprise Solutions – Designs, delivers and supports business systems, innovative and engagement systems, data warehouse, geographic information systems and control systems.
Shared Services – Serves as the central point for all Information Technology engagement and provides Help Desk support, tracking and managing the IS portfolio, communications, governance, business requirements, quality, change management and print shop and billing operations.
IT Infrastructure and Operations – Supports the technical infrastructure and operations of data center infrastructure, data center applications, network administration, network engineering, client environment engineering, and escalated support.