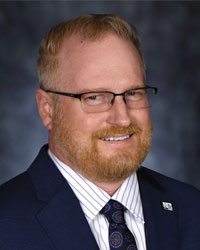 Michael Kampstra
Vice President/Chief Information Security Officer
Kampstra joined SAWS in 2009 as a network engineer who was responsible for managing and engineering all aspects of the utility's wireless network. He has designed and led multiple infrastructure improvements during his tenure, including network consolidation, network security enhancements, network resiliency, security end point detection and response, data loss prevention, anomaly detection, and more. As senior director of Infrastructure and Operations, Kampstra was responsible for providing leadership, strategic and tactical planning and oversight for SAWS' Network Engineering, IT Operations and Infrastructure groups.
In 2023 he was promoted to his current role where he leads a team protecting SAWS from the increasing threat of cybersecurity challenges, such as ransomware and data breaches.
Prior to joining SAWS, Kampstra was the manager of network communications systems for Build-A-Bear Workshop. He earned his Bachelor of Science in Business Administration, Management Information Systems from Oklahoma State University.
Contact
To:
Michael Kampstra