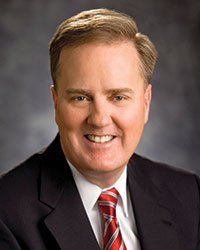 Doug Evanson
Executive Vice President & Chief Financial Officer
Evanson is responsible for the overall financial operations of a $2.7 billion utility including SAWS' treasury, finance, purchasing, supply and accounting activities.
He came to SAWS in 2005 with an extensive background in treasury and finance, having held key management positions with UtiliCorp United, United Energy and Black and Veatch.
Evanson has a Master of Business Administration from the University of Missouri in Kansas City, a Bachelor of Science from the University of Kansas. He is also a Certified Public Accountant.
Financial Services
The Financial Services Group ensures the utility's efficient operation by effectively managing and reporting on the corporate financial position, ensuring compliance with current legal and regulatory requirements, and providing timely financial support, services and guidance to internal and external stakeholders.
Budgeting and Rates – Responsible for short and long range financial plans, and developing and implementing the budget.
Accounting – Manages payroll, general records and property records.
Accounts Payable – Responsible for the vendor disbursement function of SAWS.
Treasury – Handles investment management, cash management and bank relationship management.
Finance – Responsible for the securitization and overall management of the utility's debt.
Purchasing – Manages the processing and contracting of all purchasing requests for materials, supplies and services.
Supply – Responsible for inventory and distribution support of all materials for SAWS.
Information Services Division – Provides system, data management and technical services for internal and external customers, including applications support, network engineering, database management, technical support, telecommunications, mainframe management and print shop services.