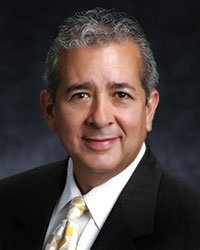 Robert R. Puente, J.D.
President/CEO
Robert R. Puente was appointed San Antonio Water System's President and CEO in May 2008. As chief executive of one of the nation's largest utilities, he provides leadership in delivering water and wastewater services to more than 2 million consumers, developing new water resources, continuing infrastructure upgrades throughout the community, and building regional partnerships.
Before coming to SAWS as the President/CEO, Puente served in the Texas House of Representatives. First elected in 1991, Puente was appointed to the House Natural Resources Committee, which develops water policy for the state. He became its chairman in 2003.
As one of the policy pioneers of modern water supply management in Texas, Puente has helped shape and steward key landmark regional water issues, including:
Creation of the Edwards Aquifer Authority and subsequent resolution to the permitting structure and the Endangered Species impacts, saving the region over $750 million dollars.
Establishment of a regional water planning and an Environmental Flows study process.
State focus on water conservation measures and plans for municipalities.
Since taking the helm at SAWS in 2008, Puente has led the organization through many historic financial and operational successes and is often called on to share these achievements throughout the United States and abroad. Recent highlights include:
Integration of a separate utility (BexarMet) the size of a medium Texas city into SAWS, relieving the community of imminent water shortages faced by the utility.
Achievement of the highest bond rating in SAWS' history, while also focusing on efficiency and innovation by reducing headcount, costs and outdated processes that saved the utility millions of dollars annually.
Recognition and awards including:

Texas Environmental Excellence Award.
Top Workplaces Award six times since 2011.
Business Opportunity Diversity Award.
2015 San Antonio Business Journal C-Suite Award.
Leading Utilities of the World designation.
2018 San Antonio Hispanic Chamber of Commerce Lifetime Achievement Award.
Under Puente's leadership, SAWS has focused on water supply diversification and innovation comprising:
Innovative partnership with the cities of Schertz and Seguin to tap unused capacity in an existing pipeline, saving SAWS customers $88 million on the Regional Carrizo Project.
Highest storage milestone ever at the Aquifer Storage & Recovery facility, surpassing 160,000 acre-feet of water available for future use.
First in the nation to capture sewer gasses, previously flared off as waste, to be sold into the natural gas grid for use as energy.
Opening of the H2Oaks Center, the region's first groundwater desalination plant and the first facility to manage and deliver three different water supplies.
Development of the 142-mile Vista Ridge project, the largest non-Edwards Aquifer water supply in SAWS history.
In 1979, Puente received a bachelor's degree in political science from St. Mary's University. He received his Doctor of Jurisprudence from The University of Texas School of Law in 1982. Prior to joining SAWS, he practiced law as a private attorney and managed his own firm since 1983.
Puente is married to Carmen Muñiz Puente. They have three children.
Contact
To:
Robert R. Puente, J.D.